See Quebec with the Quebec Webcam!
You do not have to visit Canada to explore Quebec. Our webcams of Quebec let you explore without the travel worries.
Webcam View of Parlement du Québec
Port de Québec
Quebec is the second largest province in Canada behind Ontario when it comes to population. It is a bustling city with a busy port.
The live cam of Port De Quebec lets you see all the happenings.
The population largely speaks French.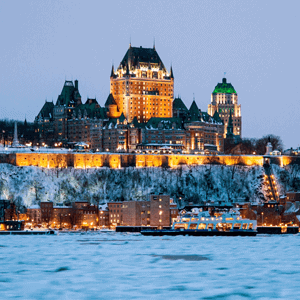 It was settled in the 1500's by the French. The French influence is still very evident today from the language to the culture.
This place oozes charm. It is rich in history and truly feels and looks like a city you would find in old France with its narrow cobblestone streets and lovely store facades.
The city lies at the intersection of two rivers the St. Lawrence and the St. Charles. It has the honor of being the oldest French speaking city in all North America.
The Quebec Winter Carnival is home to the world famous Ice Hotel. The design of the hotel changes every year and is a big draw for tourists from around the globe.
J.A. Moisan Epicier is the oldest grocery store in North America and is located in Quebec.
Quebec has at least 150 days each year where it is covered in snow! It is also home to the Chocolate Museum! This exciting city has a lot to offer!
Population: Approximately 8.4 million people
Main Attractions: Notre-Dame de Québec Cathedral, Chateau Frontenac, Le Massif Ski Resort, 37 National Historic Sites, Montmorency Falls, Musée National des Beaux-Arts du Québe, Musée de la Civilisation and more.